Hello there
Thank you for visiting today, I hope you are well.
I have a poorly hubby here - poor thing has a rotten cold and is feeling very sorry for himself so is having an extra work-from-home day rather than spread his germs all round the office. Never mind that one of them probably gave said germs to him in the first place......
As I look across to his desk I can see a bottle of cough mixture, a box of throat lozenges, box of tissues and an empty glass from his last lem-sip! I think that's got it covered 😜😜
While on the subject of my OH

, I've not shared the card I made for his birthday which was a couple of weeks ago yet, so
today I'll put that right.
I was a bit stumped for what to do this year, but inspired by the gift I'd decided to buy (I'll tell you more later in this blogpost), I decided to stick to the theme and I made a "Box of Your Cars" card!
Luckily for me, I found a file on the pc with photos of nearly all the cars he's ever owned, which even though it still took absolutely ages to make, did make the task I'd set myself a lot easier than if I'd had to trawl through all the photos we have looking for individual photos!
Having printed them all out I adhered them to dark brown card then cut around the outlines. I used double-sided tape to fix each car to a strip of acetate (cut from die set packaging) and to the supports inside the box fold card,
From his very first Fiesta and Mini to MR2s, Suzuki Cappuccino, Fiat Coupe (my favourite), Ferrari, Pors
c
he Boxster, the Peugeots, Toyotas, Audis and all the rest - they are all there!
The box card was made from Dark brown card, When folded flat it fits
All of the decorative papers are all by Authentique
To keep everything in place when folded, I made a "belly band" and used some stars, a Happy Birthday die cut sentiment and a "proper" mini to decorate.
The mini is cut from my own template and cut on the Silhouette Cameo machine
I did actually buy a ready-made die for a mini, but I didn't get on with it at all, so reverted to my own template instead.
Here's how the card looks when all folded flat and ready to go into the envelope
I mentioned the gift I'd bought for him, and I thought I'd post about it on here as I bet a lot of you sometimes despair of finding really interesting and unique gifts for the men in your lives!
I gave him a gift voucher for a personalised "carvolution" print from "Oh! Studio"
I chose to buy it as a voucher so that Hubby can select which cars he wants to have featured on the picture, and the layout which will be used. I did mention to Oliver that my OH is very fussy,

bit

he assures me that he's worked successfully with such people before....... 🤣🤣🤣🤣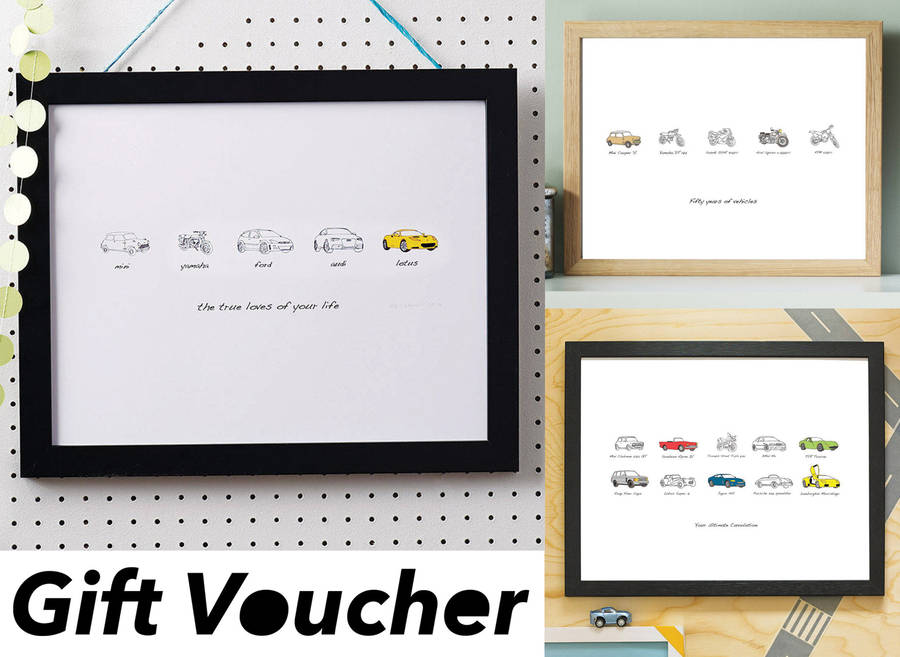 OH is still "thinking about what to do" and hasn't decided yet, so I will try to remember to show you the finished print when it eventually arrives!
You can choose motorbikes, cycles etc too, btw