When I first saw Svenja's choice of picture for this week's "August Elemental Inspiration" Picture challenge I thought, "Lots to work with there, shouldn't be too tricky....". But no! although there are loads of things to work with I really struggled to come up with something. So in the end I went with the Chuck Everything In method :) - sometimes I do this with flowers, lace, ribbons et al and get a surprisingly soft, pretty effect, but this time I came up with this Steampunk-inspired card, which once I'd actually started I had a huge amount of fun with, and made a huge amount of mess all over the room as I hunted out treasures to use
Before I try to record all the stuff I used, here's Svenja's Inspiration photo - click for a closer look at everything in the display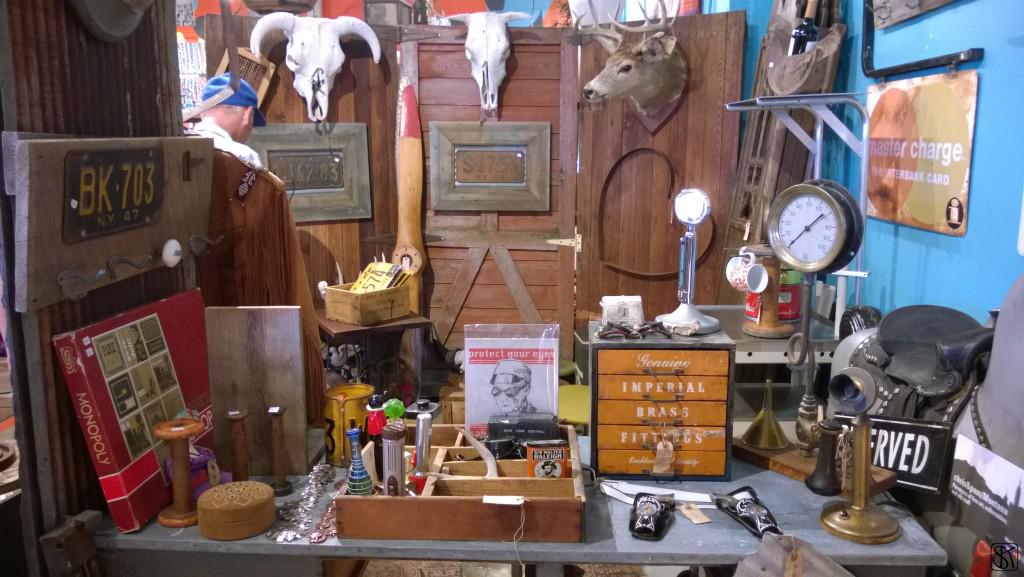 There are loads of "layers" on this one I'll go through it from the card blank up!
Smooth White card square for next layer
Blue background Element:
2 colours Distress Inks, direct to paper, then "moved" around with a wet wipe
2 colours of Spray Mists, deep blue and turquoise-blue
Ink Splodge stencil (Tando) with Black Ink
RubOn borders (Imaginisce), they are old but I think called "off the edge"
RubOn "Random Thoughts" from a booklet of monograms and headings like this (old, can't remember where from)
I stopped using RubOns because they were so unreliable and rarely transferred properly, but for grungy stuff like this they are perfect as it doesn't matter if some bits don't transfer well ;)
At this point I trimmed down the square slightly, inked the edges and adhered to the card blank
Tore across strip of brown Bazzill card and embossed with "Distressed Stripes" (Cuttlebug), Inked over for depth of colour
Resized and printed out onto card an image of the board from Google, then grouped this together with a miniature postcard (Fruit Pixie) and some die-cut cogs (Tim Holtz)
Cream Lace, Buttons (hessian covered one from Nikki Sivills),
Pen Nib, Clock Face, Thermometer (all from The Fruit Pixie)
Top Hat cut from a
miniature postcard (Fruit Pixie)
Wooden arrows inked black (Ruby Rock-It)
Candlestick Telephone Element;
I used a "colouring page" image found on the web to make a
cutting template to use with Silhouette Cameo
Even with all that "stuff" it seemed to need something more so I added a shot of colour with the cherry blossom flower and a black-inked leaf
My other "element" is the general array of eclectic bits and bobs in the photo - you could spend ages in there, sifting though all those treasures, couldn't you?
I do like a bit of arty-farty-steampunky, but I'm not sure I know anyone I send cards to who this would appeal to so

I'm thinking I'll probably keep it for my shelf - maybe "tweak" it a bit to make it more of a picture or canvas sort of thing.
It would be great to see you join in with us this week, you can check out the other fantastic creations HERE
Thanks for visiting, I hope you'll leave a message